Axall
By
Sue Mercury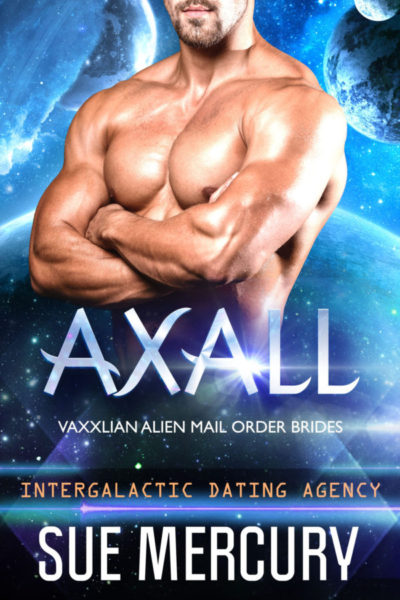 He won't leave Earth without her.
After awakening from cryosleep, Rachel struggles to find her place in a strange new world. Earth isn't the way she remembers it. Not even close. For starters, humans have made contact with real live aliens. Before she can wrap her head around all the changes, a bossy Vaxxlian warrior shows up in her bedroom claiming to be her mate. She tries to send him away, but the alien in question is as stubborn as he is tall. He also looks infuriatingly good without his clothes on…
Axall has never believed in fate or love at first sight. That is, until he meets Rachel —the petite human female with soulful blue eyes and wavy, dark hair who stirs up his protective side. One glance and he's completely smitten with the headstrong woman who incites his most primal desires. He's determined to capture her heart and take her back to planet New Vaxx.
Despite Rachel's assertion that they aren't compatible, Axall keeps trying to woo her, and if he doesn't stop making those sexy growling noises, she just might lose her resolve. But no. It would never work—she has responsibilities on Earth she can't abandon, even if she is starting to fall for the hunky green-eyed alien with the heart of gold…
Release Date: September 21, 2020