Delta V
By
Elsa Jade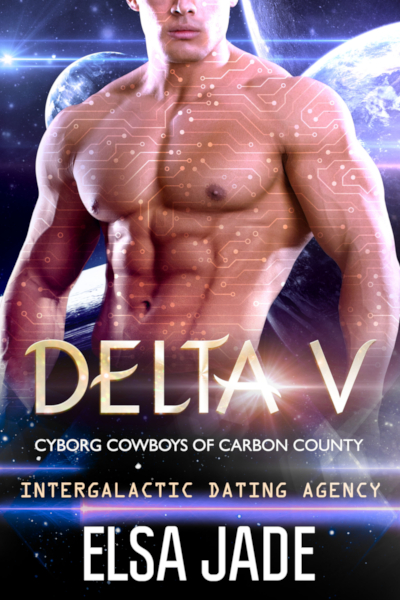 It's autumn in Big Sky Country, and crash-landed aliens are falling in love!
Deltas were always the most expendable among the CWBOIs (Custom War Bionic/Organic Impersons), and Delta V was fifth of nothing. But since the crash that left this transgalactically prohibited private army of cyborg alien warriors marooned on Earth, Delta has found some small pleasures — soft dogs, sweet donuts, seducing the neighboring rancher. Wait, what?
For the first time in her fifty years, Big Sky Country is feeling small and lonely to Montana rancher Lindy Minervudottir. With the five-year anniversary of her wife's death looming, she's not sure if the future matters. But then a futuristic fighter flies into her life.
Earth is a small, blue marble in the vastness of space, and two needy hearts are even smaller than quarks at that scale. But with a long-gone enemy closing in, if quantum entanglement and the irresistible force of love can't bind them together, the world itself hangs in the balance.
On the outskirts of the Big Sky Intergalactic Dating Agency, the Cyborg Cowboys of Carbon County are rounding up earthly pleasures for their forever mates.
Release Date: October 18, 2018