Frost
By
Michelle M. Pillow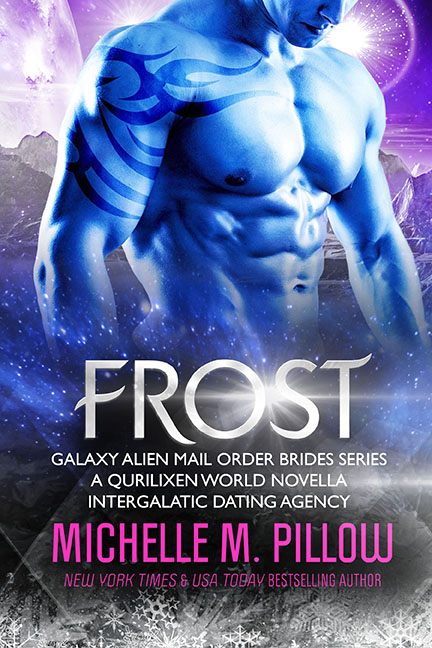 All he wanted was a little adventure and maybe to find a wife on Earth. What he got was a hell of a lot more than this alpha alien bargained for.
NYT Bestselling Author, Michelle M. Pillow, is back with a brand new sci fi alien romance adventure.
Alpha male alien Edur (aka Frost Chaos) will do anything to escape his ice tundra of a home planet. He'll even convince his brothers to jump onboard a bride procurement spaceship bound for Earth… which to be honest he should have vetted a little better.
Galaxy Brides promises a land of untold beauties just waiting for strong alien men to come and abduct them away.
Galaxy Brides promises a lot of things they can't deliver.
Galaxy Brides should maybe not be in business.
Journalist Meg Taylor had no problem leaving her big city life behind to come home to care for her sick father, but she does miss the excitement of chasing a story. When rumors of a blue hockey player surface in her small town, she can't resist. But following Frost home will give her more story than she bargained for–dangerous mercenaries, spaceships, intrigue, and a sexy blue-skinned alien looking for more than a one night stand.
Release Date: November 13, 2018