Remington
By
Tasha Black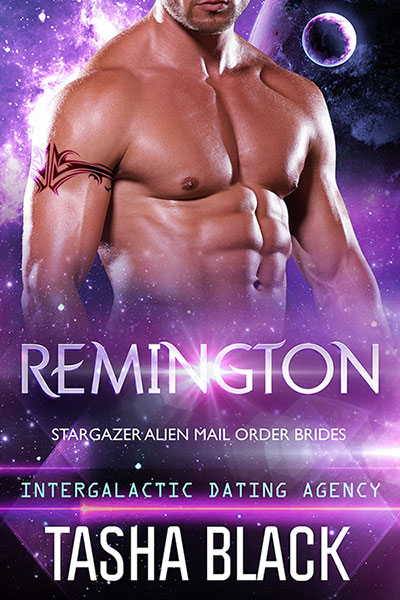 This hunky alien is a tall drink of water…
​
Addy Barnes has been living two lives. School-year Addy is all work and no play, fiercely determined to be the first doctor in a family of nurses. Summertime Addy is a party animal at the resort in the Catskills where she teaches swimming. Keeping her two lives separate has never been a problem… until this summer, when the mouthwatering Remington arrives to turn both her worlds upside down.
This female human is a breath of fresh air…
Remington arrives at Maxwell's Resort with only one goal: Remain under the radar so that the staff and guests don't suspect he's an alien. But after the arid cliffs of his home planet, the rich greens and blues of the resort are too seductive to resist. And at the heart of it all is Addy Barnes with her aqua eyes and shimmering hair. The curvy co-ed is saturated with sunshine and the warm, welcoming water of the swimming pool. All Remington wants to do is soak her in.
The lovers quickly find themselves in deep water…
When outside forces threaten to close down life as they know it Remington must risk his life to save Addy's. Will their summer love burn out? Or do they have what it takes to last the whole year round? 
Release Date: June 15, 2017