Rocky
By
Tasha Black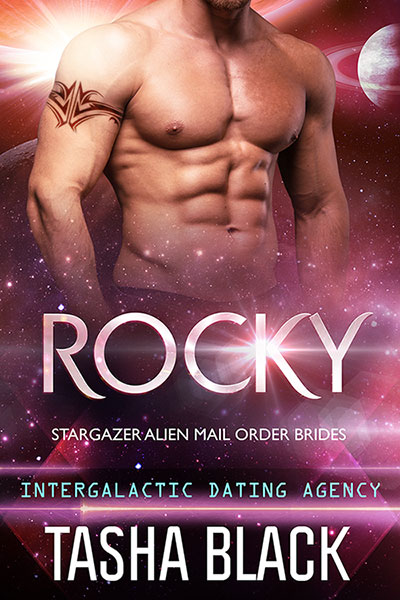 From USA Today Bestselling Author Tasha Black
Educated about humankind by the 1980s movies that  came to them in an interstellar time capsule, these gorgeous gentleman are eager to meet Earth girls…
Coolheaded Georgia Taylor dreams of becoming a police officer. But her orderly world goes into a tailspin when she and her friends answer an ad looking for egg donors and she winds up the intended bride of an honest-to-goodness alien. Georgia is convinced she can leave the brave new world behind and get back to her life plan, if she can just keep Rocky at arm's length. If only he weren't so infernally good-looking and thoughtful…
Rocky is on Earth to fill one human female with as much pleasure as she can bear, a mission he's eager to tackle especially after meeting Georgia. His chosen bride is clearly attracted to him, but she doesn't seem to want to give him the time of day, and her every rebuff only makes him more determined to win her.
Tasked with using his powers of human seduction to glean what he can about Earth and its inhabitants, Rocky knows that if the planet's resources are worthy and its residents aren't, his days of chasing Georgia will soon be at an end.
About the Stargazer Alien Brides series:
Known for its famous maple pancakes, the small town that renamed itself Stargazer has constructed a huge satellite dish that sends messages of welcome into the cosmos.
When our otherworldly brothers arrive at last they expect a warm welcome.
Release Date: October 14, 2016