Snow
By
Michelle M. Pillow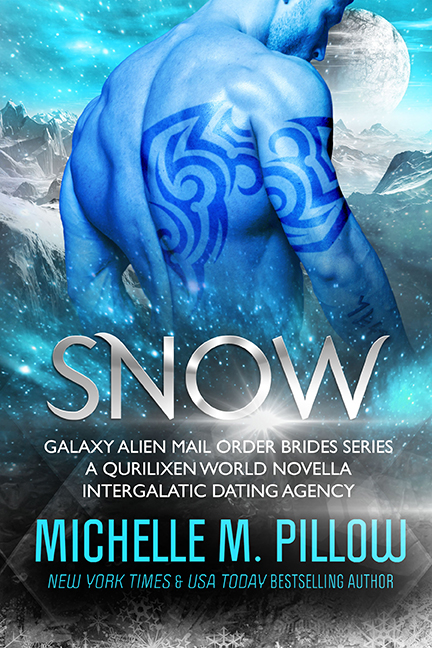 Alpha male alien comes to Earth to pick up a bride and instead meets a beautiful scientist whose job it is to capture him.
NYT Bestselling Author, Michelle M. Pillow, is back with a brand new sci-fi alien romance adventure.
Tushar (aka Snow Chaos) knows there is little chance of finding a wife on his ice-ball of a home planet. Few can survive the subzero temperatures. When Galaxy Alien Mail Order Brides offers to introduce them to women eager for love, he and his brothers can't resist, but Earth is far from welcoming.
He knows he should focus on getting home, but all he can think about is laying claim to the sexy scientist who works for the bad guys.
Jennifer works for the Milano Foundation in an attempt to undermine their efforts. When Snow and his brothers land, it's like a dream come true for her diabolical alien-kidnapping coworkers. Now she has to make a choice–keep her cover, or betray a dangerous corporation to save the alien she's falling in love with.
Snow might be a blue humanoid from another planet, but life with him might be worth the risk.
Length: Long Novella/Short Novel
Contemporary Alien Science Fiction Fantasy Paranormal Romance
A Qurilixen World Novella
Release Date: January 8, 2019