Solitary
By
Candice Gilmer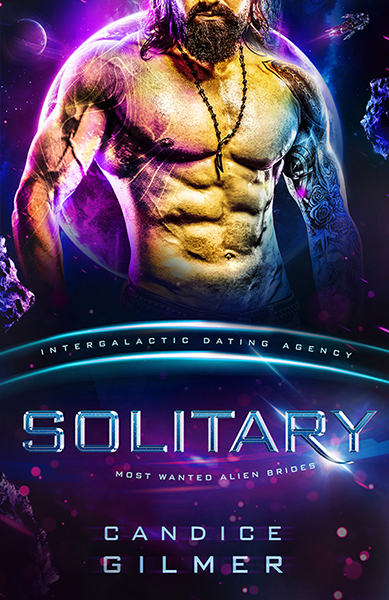 Leaving the Terran Empire's POW camp, they thought they found their way home.
Home, however, is taking a different route than these cyborgs expect.
Most Wanted Alien Brides Series,  Intergalactic Dating Agency
When the transport landed at Disguised Serenity, the last thing that Solkan wanted to do was be shuffled into the Intergalactic Dating Agency's offices and tested.
He had plenty of tests as a prisoner of war of the Terran Empire. Doing more, even if it was to find his mate, just pissed him off. He'd been in solitary for a reason. He didn't want to be around anyone.
Especially not a mate. Cyborgs weren't supposed to be slaves to their Cravings. Solkan refused to be slaved to anyone, ever again.
Now that the prisoners are being released, it's time to be free.
As if that's ever possible.
Terran officer Addigale Vinka spent a great deal of time around the cyborgs. So much so, she was fired. She bonded too easily with them, or so she was told. Especially Solkan.
Whatever it was about Solkan, she couldn't help the desire to be around him. The others? They were fine, but Solkan?
It was beyond the fact that he was spectacular to look at. She felt something.
Now, though, she might have a chance.
Then maybe, she and her favorite cyborg have a chance to see if this thing between them is really important, or just a prisoner falling for his jailer.
Release Date: November 5, 2021