Solo
By
Tasha Black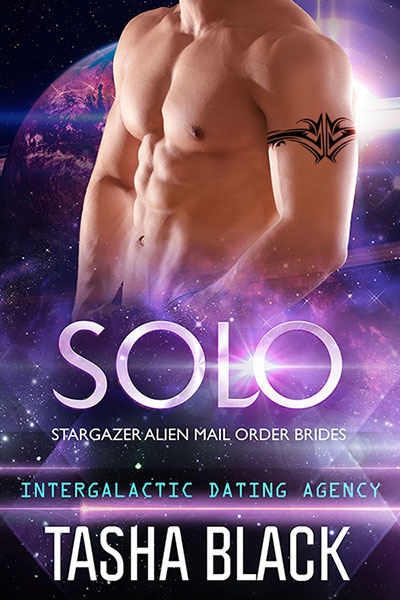 This special effects artist is a master of illusion. But her alien intended is determined to solve the mystery of her past.
Cecily Page makes movie magic with special effects and make-up. Her wild creations and fun-loving personality give her a sought-after status in the movie industry, and a rock & roll lifestyle that has her traveling nearly every day of the year – just the way she likes it.
Solo has arrived on Earth with only one mission. He must use his movie star good looks and skills in bed to win a human woman as his life mate. But although he lost his heart to Cecily the moment before he met her, he can see she is determined not to abandon her independent lifestyle, in spite of their intense attraction.
When Solo learns of a mystery in Cecily's past, their road trip to the Glacier City Comic Con turns into a race to unravel the threads of a riddle that will land them with information neither of them could have imagined.
When the truth comes out, will Cecily be ready to open her heart? Or will Solo be so lonely forever? 
Release Date: May 24, 2018