Falcon
By
Susan Grant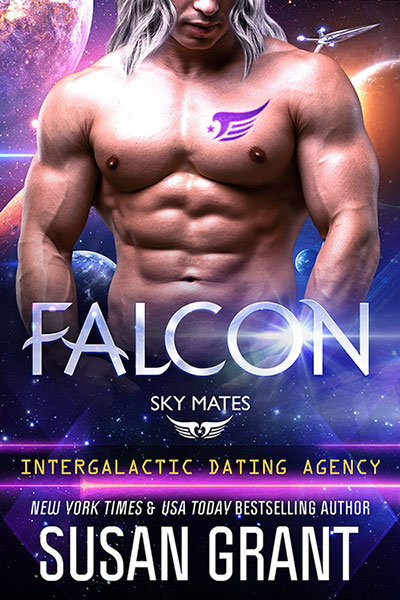 In book #2 of the sweet and steamy sci-fi romance Sky Mates series, intelligence officer Lt. Dee Wilson pushes way out of her envelope with her hot alien-cyborg flight instructor. Can she help it if his expert maneuvers have her seeing stars?
Dee is afraid of flying. But she'll do anything for the chance to enter the Sky Mates program and be matched with a loving mate of her own. To overcome her greatest fear, she enlists the help of a big alien warrior with bravery to spare.
Sky Warrior Falcon is under intense pressure to return to his home planet with a Sky Mate. He can't believe his luck when the sweet and smart redhead instructor who's enchanted him since he arrived at Galactic Top Gun School turns out to be his match. Except, the only thing she seems passionate about is going out of her way to avoid him. Is she hiding something? When he discovers she's signed up for lessons at a fear-of-flying clinic, he switches places with her instructor. If she's serious about going sky high, he'll make sure it happens with him.
Determined to see Dee reach new heights, Falcon finds out that when it comes to true love, the sky is definitely not the limit. But will his planet allow their most talented pilot to pair up with a mate who's firmly grounded?
For a sweet and steamy, Texas-two-stepping, afterburner blasting, galaxy-spanning adventure, join the world of SKY MATES and read FALCON today! (An Intergalactic Dating Agency story.)
Other books in the Triad Alliance World:
The Otherworldly Men Series:
•Book #1 GUARDIAN ALIEN
•Book #2 ROYALLY MATED
•Book #3 CYBORG AND THE SINGLE MOM
The Borderlands Series:
•Book #1 WARLEADER
•Book #2 HUNTING THE WARLORD'S DAUGHTER
•Book #3 RAIDER BORN
And the spin-off series:
Sky Mates (Intergalactic Dating Agency)
•Book #1 HAWK
•Book #2 FALCON
and more to come
Release Date: November 10, 2020