Susan Grant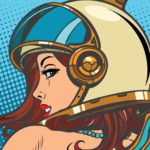 Susan's childhood dreams of becoming a space explorer fizzled when she found out that calculus was involved. Luckily, she didn't need math skills to fly jets — or to create galactic adventures in her head, first for herself, then for friends, and now for readers everywhere.
A New York Times/USA Today bestselling author and a military veteran, Susan won the prestigious RITA® Award for her book Contact, a sci-fi alien romance.
Drop by www.susangrant.com and sign up for a free book!

Sky Mates