Hawk
By
Susan Grant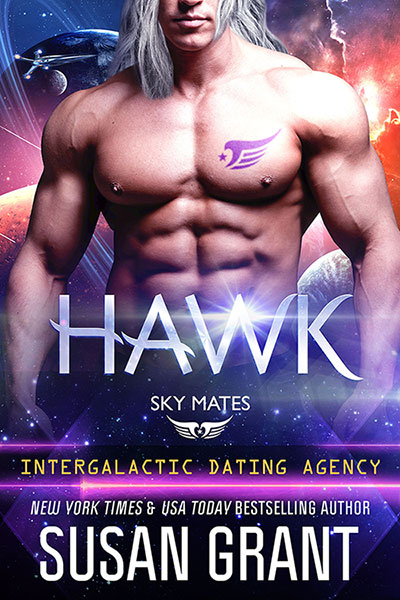 Introducing the sweet and steamy SKY MATES Series… All the fun and action of Top Gun plus romance when smokin' hot aliens are assigned to a base on Earth.
In a small town in Texas, a woman on a mission meets a big alien warrior with a tender heart…
They were the match no one expected—especially them.
Commander of the fierce air warriors of Sky's End, Hakkim "Hawk" comes to Earth for business, not pleasure. The future of his remote world depends on his squadron finding their perfect matches and flying partners. With responsibility for the mission's success resting on his shoulders, finding his own mate never occurs to him—until he crosses paths with the Terran pilot assigned to work with him on Project Sky Mates.
Fighter pilot Captain Kelly "Crackers" Ritz has always been better at flying than dating. Jets can be dangerous, but they'll never break your heart. Avoiding love has been easy—until she's selected to be the liaison for a team of mysterious alien pilots. She feels an instant connection with their part-cyborg leader. But she's supposed to work with him, not fall for him…isn't she?
When Hawk claims Kelly as his Sky Mate, his world says no. With only a few weeks to go before he has to return home, will he break his vows to his people to be with the woman he loves, or be forced to leave her forever?
For a sweet and steamy, Texas-two-stepping, afterburner-blasting, galaxy-spanning adventure, join the world of SKY MATES and read HAWK today! (An Intergalactic Dating Agency story.)
★★★★★ "Great story! Can hardly wait for the next one. Hawk and Kelly are wonderful together but can they make it work? Lovely romance but be prepared for some R rated scenes." —Goodreads
Other books in the Triad Alliance World:
The Otherworldly Men Series:
•Book #1 GUARDIAN ALIEN
•Book #2 ROYALLY MATED
•Book #3 CYBORG AND THE SINGLE MOM
The Borderlands Series:
•Book #1 WARLEADER
•Book #2 HUNTING THE WARLORD'S DAUGHTER
•Book #3 RAIDER BORN
And the spin-off series:
Sky Mates (Intergalactic Dating Agency)
•Book #1 HAWK
•Book #2 FALCON
and more to come
Release Date: October 15, 2020